It takes an average of 45 minutes for boats to travel the entire flight and on a busy day as many as 40 boats can make the trip. Our dedicated team of volunteer lock keepers will be on hand to direct the traffic and keeping the flight flowing.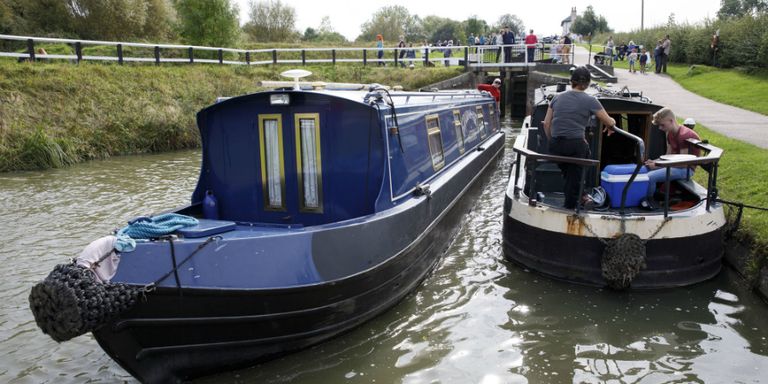 Foxton Lock Times -
As locks can be very busy, please allow yourself plenty of time to make your passage.
Boaters booking in

You'll need to book in with our lock keepers to take your boat through Foxton Locks. If you can't find one on the locks please knock at:

Top Lock Cottage
Gumley Road
Foxton
Leicestershire
LE16 7RA

The volunteer lock keepers manage the flow of boats up and down the locks in the most efficient way possible to make sure you have the best experience and journey possible. And, importantly, to make sure none of our precious water is wasted.

During the summer, lots of boaters naturally want to go up – or down – this impressive staircase. So please make sure you arrive in plenty of time (sometimes you may have to wait several hours to make your journey). Luckily, there are a number of good pubs in Foxton and the Boilerhouse Museum to look around while you wait.
Boaters facilities
1 disabled mooring spot above the top lock. Bollards marked orange
2 water points between top lock and disabled mooring
1 water point opposite the bottom lock
1 water point 50 yards up the Leicester arm
refuse and Elsan in the bottom car park
launderette and shower next to Bridge 61 pub below the bottom lock
small selection of chandlery, gas, groceries and gifts in the shop below the bottom lock
Foxton Boat Services engineering via shop below bottom lock
nearest pump out at Debdale Wharf 30 minutes up Leicester arm. There's no public pump out available at Union Wharf in Market Harborough.
Note: Winding is possible at wharf entrance
Foxton Locks visitor moorings

1, 2 ,7 and 14 day visitor moorings are available at Foxton Locks.

Please check the stay times on the towpath posts and take a look at our full terms and conditions for use of the visitor towpath moorings in Foxton Locks.

Our local mooring map shows the various moorings in Foxton: Locks between Bridge 63, Bridge 60 on the Grand Union (Leicester Line) and the site of the old swing bridge on the Market Harborough Arm.

Visitor mooring is free for the published time but there's an extended stay charge of £25 (including VAT) per day if:
you do not move on after the maximum stay time within any one of the zones between Bridge 63, Bridge 60 and the site of the old swing bridge (Market Harborough Arm)
you stay longer than 14 consecutive days between Bridge 63, Bridge 60 and the site of the old swing bridge (Market Harborough Arm)
you spend more than 14 days between Bridge 63, Bridge 60 and the site of the old swing bridge (Market Harborough Arm) during any calendar month
Just so you know - our volunteer visitor mooring rangers visit daily to record boat numbers. Any extended stay charges will be recorded on your boat licence account.
Last Edited: 29 July 2021
Stay connected
Sign up to our monthly newsletter and be the first to hear about campaigns, upcoming events and fundraising inspiration